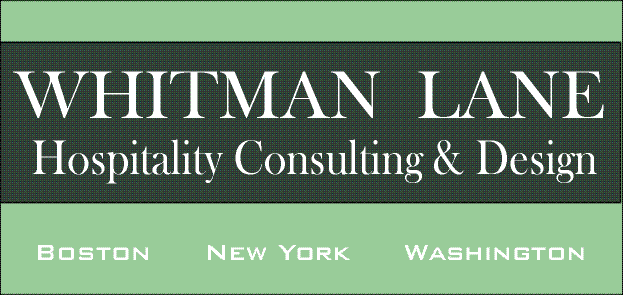 Leading The Hospitality Industry Into The New Millennium

Company Overview
Whitman Lane Associates is a full service consulting and design firm consisting of management consultants, operations professionals, Architects and designers specializing in all aspects of the hospitality industry. The firm is allied with other independent Design firms specializing in the hospitality industry and is augmented by associated marketing & public relations professionals, systems analysts, lighting consultants, engineers and graphic designers. The combined experience of our team includes corporate cafeterias and executive dining rooms, conference centers, college foodservice facilities, specialty restaurants, hotels and resorts, clubs and nightclubs, marinas, airports and attractions. The scope of services offered by the firm cover all stages of planning for both existing facilities as well as projects in the planning stages.

Whitman Lane Associates was established as a firm that offers full-service consulting from financial feasibility and concept development to custom and complex interior design at any budget level. Our primary markets are the food and beverage, hospitality and retail industries.Whitman Lane Associates is composed of two groups; Management Services and Design Services. The talents of each group are blended together to suit individual project requirements.

The hospitality industry is spread over a broad cross-section of the business community.Projects within the hospitality industry require a great measure of specialized knowledge and technical competence. Understanding specialized F&B and hotel/resort-related needs are critical to the success of any project. We integrate the broad spectrum of management services and design- related needs to meet the demands of current trends and changes in the marketplace for responsive solutions to problems.

The food and beverage industry is extremely complex with profitability dependent upon a myriad of variables. Success almost always requires the cooperative work of many specialists. As hospitality specialists, we interface with other members of the design/development team including: food and menu designers, the operations team, legal services, lighting designers, graphics designers, and engineered services.

Whitman Lane Associates consultants can provide all of the operations planning, design and engineering services for any project.


Key members of the Whitman Lane Associates team include:

Brian Lane has been a Management Consultant since 1982 specializing in feasibility studies, master plans and concept development. Mr. Lane has an extensive background in operations and all financial aspects of the hospitality industry. Mr. Lane was formerly a senior management consultant for Cini Little, International.


Terry Ehinger is a CPA with over 35 years of experience as a financial planner with extensive involvement in both the hospitality industry as well as in retail operations.


The members of the Whitman Lane team have worked in collaboration on various projects for more than 30 years.